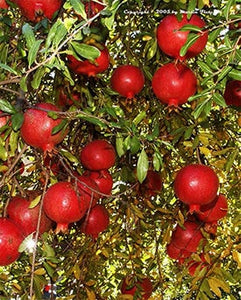 Flora Fauna Farm
Pomegranate, Sumbarskii
Regular price
$60.00
$0.00
Unit price
per
 'Sumbarskii' produces medium sized fruits with dark-red arils providing a light-red juice. The arils, the juice, and the flesh have a very good sweet 'yet mild taste' with little acidity, has a very good sweet-tart-sour balance. It's fruit is resistant to cracking. Fruit starts to mature early in the year, one of the earliest of the cold hardy pomegranate cultivars. It's seeds are soft, and small.
It's very cold hardy, to at least -15 Celsius '5 degrees Fahrenheit' and potentially more cold hardy than that. When big enough, this cultivar can survive late frosts.
'Sumbarskii' is said to have originally been from 'northern Iran' in the 'Sumbar valley' region of Western Kopetdag, but was test grown in Russia at the 'Kara-Kala Turkmenistan Experimental Station' and brought to the US in 1999 along with many of the other cold hardy varieties. 
---